Welcome to the 31 Days of Halloween! This year has been a tough one, this is actually the first thing I have made in at least 4 months.
This card was created with Regan Kubecek's Trixie image from
Sweet Pea Stamps
.
There are so many great stops - I hope you have fun visiting them all, thanks for stopping by!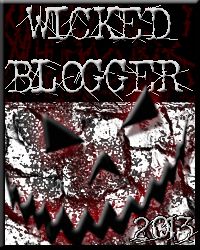 31 Days of Halloween 2013 Wicked Blog Roll
Terra
Black Dragon
Kapree
Shell
Kristy
Susan
Helen
Loren
Alison
Kelli
De Stempelwinkel
Monique
Karen
Airless Chambers
Jane
Jennifer
Emily
Lisa
Lyneen
Wendy
Altered Pages Art Sociates
Leslierahye
Delicious Doodles
Roni
Shoni
Jenn
DominoART
Jessica
Sandy
Carolyn
Carla
Julia
Steph
Trisha
Brigitte
Lisa
Anna